Featured
eCIGRE Powering your expertise!
New version live now>
CIGRE and the Energy Transition
Resources by hot topics more>
ELECTRA December edition out now
Read CIGRE's digital magazine more >
Five key points about membership 2023
#4 Record number of Technical Brochures released more>
CIGRE active working groups
Call for experts more>
Energy Transition
Find the relevent work of CIGRE and resources available on the hot topics of energy transition More>
Publications
CIGRE is the authoritative source of power system technical reference information
Knowledge programme
The world's foremost power system knowledge development programme
Members
Member resources and quick links
Events
Latest events across the world of CIGRE
CIGRE global community
A collaborative global community sharing knowledge and expertise
About CIGRE
The value we create, our achievements, our mission, history and More>
News from the world of CIGRE
Keeping you up-to-date with news from across the world of CIGRE
Videos that give you
all you need to know about CIGRE
CIGRE Event calendar
CIGRE's unique knowledge programme comes to life through its worldwide array of face to face and online events. International human interaction facilitates free exchange of knowledge within the CIGRE community.
More>
Leadership Circle
Sign up now!
Welcome to the CIGRE Leadership Circle newsletter. This is a free short publication released three times a year that promotes topics and content of particular interest to CEO's and other executive industry leadership.
CIGRE's strategic focus is to be a steps ahead of the future grid with a global community offering benchmarks that can assist your business.
CIGRE commits as part of our values to continue as an unbiased global community for power system expertise. Our scope is end to end power systems with a technical foundation unparalleled in the world.
So if you are looking for a neutral technically orientated high level perspective this is the newsletter for you. Subscribe for free now!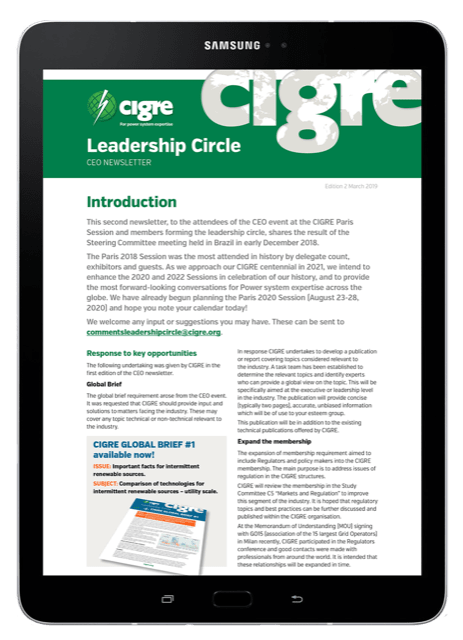 ELECTRA
The October edition of Electra is online now. Get the latest news of CIGRE here: