Virtual Centennial Session
CIGRE's Virtual Centennial Session – it's new, but just as essential for power system professionals as it's always been. And registrations are now open ...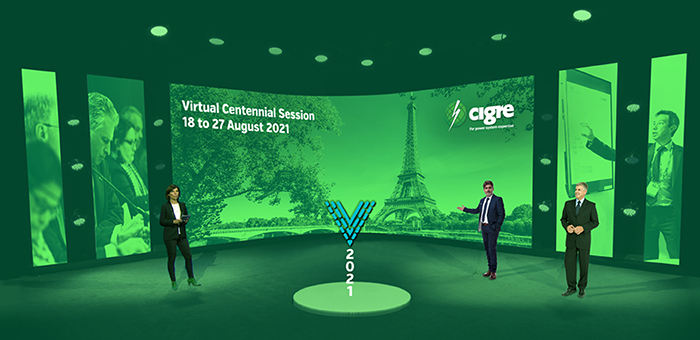 CIGRE has constantly evolved and innovated during the past century in response to, and in anticipation of, emerging trends and challenges in the global power system. In this vein, we have chosen an exciting, vibrant and stimulating new technology-enabled approach to the 48th Session of the Association. Given ongoing health uncertainty due to the pandemic, the 2021 Session will be entirely virtual.
Just as our traditional poster Session has formed a part of our normal wider Session format, the 2020 e-session, which focused on the presentation of papers, was effectively the poster Session for this 2021 Virtual Session.
Along with a new interactive industry exhibition, remote delegates of the Virtual Centennial Session will enjoy all the same in-depth, interactive, insightful presentations, discussions and debates that they are accustomed to from previous Paris Sessions. Better still, several factors will enable and actually enhance this.
Much work is underway to ready new CIGRE TV for the Centennial Session. This will allow us to compliment our usual in-depth technical programme with interesting interviews, discussions and summaries of the day's proceedings, broadcast before and after the technical programme via this new 'CIGRE TV' format.
The Virtual Centennial Session will be held over 8 four-hour days, excluding Saturdays and Sundays, from 18 to 27 August, again at the Palais des Congrès. This time though, the Group Discussion Meetings (GDM), which are the main components of a CIGRE Session, will be broadcast professionally from a suite of five new state-of-the-art broadcasting studios. The various events will conveniently span key global time zones that offer our global community greater flexibility.
In the tradition of our thought leadership congress, the 16 Study Committee organising teams, including Chairs, Secretaries and Special Reporters, or eventually their substitutes, will be on hand in Paris to lead expert technical discussions. Remote but still immersive delegate input and engagement will be carefully facilitated, with findings made available on a daily basis. In addition, 16 new tutorials will be broadcast parallel to the main event, using the GoToWebinar management platform.
Digital delivery of CIGRE's end-to-end scope of work will make it even easier for delegates to select the meetings and events from the calendar most aligned with their needs. The first version of the full programme is available to view by following this link.
Enabled by the virtual nature of the 2021 event, registration fees have been reduced. Those who registered for the 2021 Hybrid Session can carry their registration forward to 2022 and also access this year's virtual event for a highly discounted rate. Similarly, those who now register for 2022 will access the same rate. View rates.
We encourage our global community to continue the unique traditions of CIGRE in these challenging times. Unite with us at the Palais des Congrès de Paris this year and be part of the world's leading virtual event for power system expertise. Register now and stay tuned for more information at session.cigre.org, LinkedIn and via email updates.