CIGRE SC D2 Colloquium 2019

Tue 11 June 2019 to Fri 14 June 2019
/
Colloquium
CIGRE SC D2 Colloquium 2019
- CIGRE SC D2
The registration is closed.
More information about the event: https://www.cigrefinland.fi/en/D2-colloquium2019
Information systems and telecommunication
The D2 colloquium and exhibition will bring together the key play-ers of information systems and telecommunication for the electric power industry: business leaders, system operators, manufac-turers, engineers, policy makers, regulators and academics. The conference will be a unique forum to share exciting new research, to raise issues and awareness, to discuss future directions, and to network with leading professionals.
Preferential subjects
Papers are invited on any topics of interest falling within the following three preferential subjects.
PS 1: Information and communication technology (ICT) supporting energy transition
Big data, data analytics using artificial intelligence (AI) for securing the electric power utilities operations;
Cloud computing;
Machine learning.
PS 2: Cyber security
Threats management in electric power utilities (EPU);
Security assessments tools;
Cyber security maintenance in power system operation;
Electric power utilities credential management with blockchain technology;
Big data used for detecting cyber anomalies in electric power utility infor-mational and operational technology (IT/OT).
PS 3: New internet of things (IoT) application to support electric power utilities
5G for utility networks;
New internet of things applications to support electric power utilities;
Cybersecurity issues in internet of things.
Important dates
June 1, 2018: call for papers
September 30, 2018: deadline for submission of abstracts (via website)
October 26, 2018: notification of acceptance of synopses
January 31, 2019: deadline for submissions of final papers
Why Join
Join CIGRE for power system expertise
Collaborate with experts from across the whole power system
Access perspectives and peers from every corner of the globe.
Unlimited free access to e-cigre.org

Be prepared for the future! More >
Watch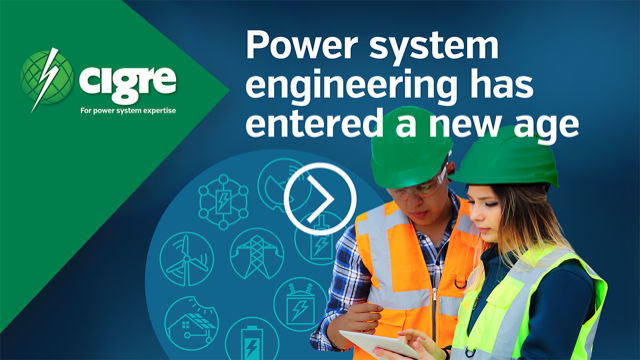 Solve all power system challenges in one unique place
To find the solutions you need in one unique place, join CIGRE. As the preeminent global technical organisation, CIGRE is uniquely positioned to offer the full spectrum of low through high voltage perspectives, industry colleagues and end to end knowledge.