Women in Engineering e-session

Fri 28 August 2020 to Fri 28 August 2020
/
Conference
Women in Engineering e-session
- CIGRE
Women in Engineering e-Session 28 August 2020, 14:00 – 16:00
Embracing Change and Overcoming Barriers
CIGRE WiE 2020 e-Session will be focusing on Embracing Change and Overcoming Barriers. Embracing change is never easy, especially the kind you do not see coming. In this session we will look at how change gives us an opportunity to think differently, step out of our comfort zone and embrace a post COVID world.
We will also go through some of the milestones we have achieved as CIGRE WiE and pave a way forward in a quest to close the gender gap within CIGRE structures. In order to encourage other national committees in starting a local WiE forum, WiE Chairs have put together what each established national committee WiE has been up to and what other members' involvement is within the CIGRE structure. The aim is to change the picture on the wall by role modelling.
One of our goals is to remain connected to the rest of the engineering bodies, while cross-pollinating skills, knowledge and sharing common goals in advancing women participation in the engineering sector. WePOWER (South Asia Women in Power Sector Professional Network), a world bank initiative to support workforce participation of women in energy projects and institutions, and promote normative change regarding women in Science, Technology, Engineering, and Mathematics (STEM) education, will be sharing their roadmap and how this initiative is striving to promote top female engineers and leaders. This presentation will include WePOWER's approach in: (i) assessing the status of women's employment in South Asian energy sector; and (ii) in motivating WePOWER Partners to implement gender activities that support women's employment in energy-sector projects and institutions and increase women's enrolment in STEM education.
The IEEE-CIGRE relationship has been established for many years now, and this year we have an honour of our former CIGRE WiE Chair Dr Ruomei Li, who is currently the Chair for IEEE PES Women in Power (WiP) to share the WIP approach in embracing change and overcoming barrier within the IEEE PES structure.
Our 2020 WiE keynote speaker comes from Israel, a Minister of Strategic Affairs, MK, Adv Orit Farkash – Hacohen. This Faculty of Law graduate from the Hebrew University of Jerusalem has been active in leadership positions for over two decades. Some of the positions she occupied include Chairperson and Director General of the Israeli Public Utilities Authority (Electricity), where she opened the market for electricity production to competition in Israel, as well as encouraged the birth of the clean electricity industry from renewable energies in Israel. In recent years, Farkash Hacohen she was a partner at Goldfarb Seligman, a leading law firm in Israel, where she directed the Energy and Infrastructure practice. CIGRE WiE will be honoured to host Minister Farkash-Hacohen.
The last 30 minutes of the program is reserved for a panel discussion. In this panel session, you'll have the opportunity to hear from four amazing women from varies CIGRE national committees. Together they will explore and discuss the importance of diversity, recommended strategies, and future considerations, and will be on hand to answer your questions.
Be sure to join us as we will be live on GoToMeeting webinar on the 28th August 2020, 14:00 – 16:00 as part of CIGRE Paris Session.
Session Program
Why Join
Join CIGRE for power system expertise
Collaborate with experts from across the whole power system
Access perspectives and peers from every corner of the globe.
Unlimited free access to e-cigre.org

Be prepared for the future! More >
Watch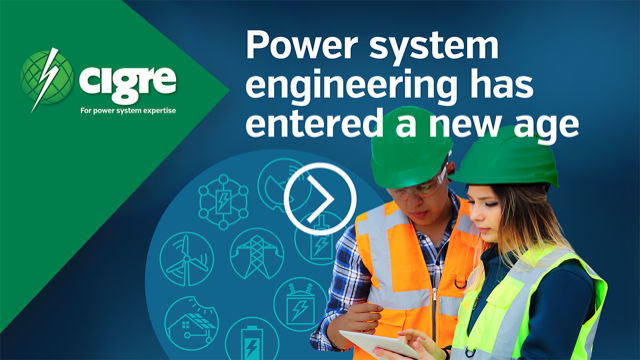 Solve all power system challenges in one unique place
To find the solutions you need in one unique place, join CIGRE. As the preeminent global technical organisation, CIGRE is uniquely positioned to offer the full spectrum of low through high voltage perspectives, industry colleagues and end to end knowledge.