Grid of the Future 2020 (POSTPONED)

Sun 01 November 2020 to Wed 04 November 2020
/
Symposium
Grid of the Future 2020 (POSTPONED)
- CIGRE USA
The US NC cancelled the 2020 Grid of the Future and will have it in 2021 in October.
Technology for the 21st Century Electric Utility
The Grid of the Future Symposium, sponsored by the CIGRE US National Committee (USNC) and Electric Power Research Institute (EPRI), with the theme Technology for the 21st Century Electric Utility, will be held November 1-4, 2020 in Providence, RI.
The Symposium, hosted by National Grid, will be a forum for the participants to discuss state-of-the-art innovations in generation, transmission, distribution, and innovative smart grid technologies.
Grid of the Future 2020 will feature plenary sessions, technical paper sessions, and tutorials by international experts. Contributions from Next Generation Network (NGN) young engineers are encouraged.
Call for Papers and Participation
The symposium scope covers the following general topics:
Digitization & Big Data: Smart Cities, IEC 61850, IoT, Public vs. private networks, Fiber/WAN/FAN, Network and device management, Cyber-security, self-healing grid, and sensors
Clean Technologies: EV, Energy Efficiency, Smart Homes, Off-shore Wind, Distributed Generation Technologies, Smart Inverters, Energy Storage, Non-Wires Solutions
Innovative & Disruptive Technologies: Quantum Computing Applications in Power, Blockchain in Energy, Artificial Intelligence, Edge Computing, Digital Twin, Advanced Approaches for Detecting Downed Conductors, Autonomous Vehicles
Asset Management & People: Risk/Cost/Performance Modeling, Data Analytics, Failure Prediction, Transforming the Workforce
Transmission & Distribution Systems: Transmission Monitoring, T&D System Planning, HVDC, Distributed System Operator, Grid Modernization, ADMS, DERMS, DMS, DR, Microgrids & Islanding, Public Generation Availability and Energy Usage Maps
Dates & deadlines
July 24, 2020: Complete manuscripts must be submitted by July 24, 2020 via email to GOTF@tamu.edu. The paper should be formatted in accordance with the CIGRE Publications Guide.
August 21, 2020: Notification of acceptance.
September 4, 2020: Deadline for submission of final paper with required changes.
Tutorials
The conference has reserved space for smart grid tutorials and panel sessions.
If you are interested in organizing a tutorial or panel session, please contact John McDonald, Technical Program Chair at johnd.mcdonald@ge.com.
More information
Why Join
Join CIGRE for power system expertise
Collaborate with experts from across the whole power system
Access perspectives and peers from every corner of the globe.
Unlimited free access to e-cigre.org

Be prepared for the future! More >
Watch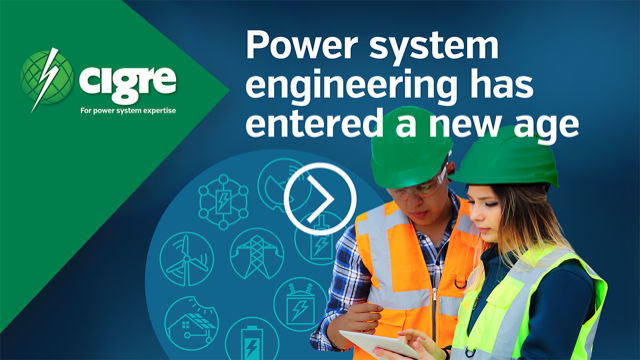 Solve all power system challenges in one unique place
To find the solutions you need in one unique place, join CIGRE. As the preeminent global technical organisation, CIGRE is uniquely positioned to offer the full spectrum of low through high voltage perspectives, industry colleagues and end to end knowledge.