One registration fee,
two great events

Your questions answered
In response to the Covid-19 pandemic CIGRE has postponed its 2020 signature Paris event to 2021. In the interim a unique digital e-session will run in 2020. To follow is a set of questions and answers to bring clarity to our community and supporters. It outlines how it all works and the unique opportunity to participate in both events for one cost.
1. General Information
CIGRE will use online technology to run the 2020 e-session.
How will this work?
When and where will the detailed programme appear for the
2020 e-session?
What are the dates for the 2021 Centennial Session?
What will be the format of 2021 Centennial Session?
What about the 2022 Session - will that go ahead as scheduled?
What about CIGRE Symposia scheduled for 2021 - how are
they impacted?
2. Delegates and Registrations
I have registered and paid already for 2020. What are my options?
If I register for the 2021 Paris Centennial Session this year,
do I get automatic access to the 2020 e-session?
But if I plan to attend the 2021 Centennial Session is there really
much additional value in attending the 2020 e-session?
If I register in 2020 what does it cost for the two events?
So am I getting two valuable events for the price of one?
Can I just register for the 2020 e-session and decide
on 2021 later?
Will the price of the 2021 Session increase if I register after
31 December 2020?
If I make the commitment now, what guarantees
do I have about 2021?
What about the official CIGRE travel agent, I booked my travel
through them how do I get a refund?
3. Authors
How What are the template and guidelines to prepare my presentation?
As an author can I have free access to the e-session?
4. Exhibitors and e-session sponsors
How can I find out more about the 2021 Centennial Session
industry exhibition?
What sponsorship opportunities will exist for the online
2020 e-session?
Why Join
Join CIGRE for power system expertise
Collaborate with experts from across the whole power system
Access perspectives and peers from every corner of the globe.
Unlimited free access to e-cigre.org

Be prepared for the future! More >
Watch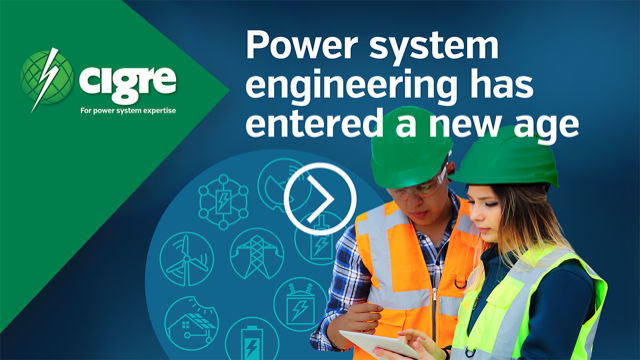 Solve all power system challenges in one unique place
To find the solutions you need in one unique place, join CIGRE. As the preeminent global technical organisation, CIGRE is uniquely positioned to offer the full spectrum of low through high voltage perspectives, industry colleagues and end to end knowledge.